New rules for crowdfunding investors in Ontario

Humber EtCetera | Celia Grimbly | Apr 4, 2014
Globe and Mail business writer Tim Kiladze wrote in 2011 that the venture capital market in Canada was shrinking.
He cited a study by Thomas Reuters showing a decrease in venture capital investments of more than 80 per cent to $1.1 billion in 2010 from $5.9 billion in 2000.
"The demise has hurt Canadian companies," Kiladze wrote. "Venture capital investors are the few institutions and individuals who are willing to invest in small startups with no proven track record."
This was the landscape until recently, when the Ontario Securities Commission among five other provincial regulators, announced in March two new proposals for crowdfunding prospectus exemptions, which may help boost the Canadian economy, said Debra Chandra, ambassador for Singularity University and advisor to the National Crowdfunding Association of Canada.
"Crowdfunding provides startup companies with a new way of raising capital, who don't have any operating history and can't go to traditional lenders, and it's a real-time customer focus group," she explained. "They're getting feedback, building brand and getting capital to build out some of their product."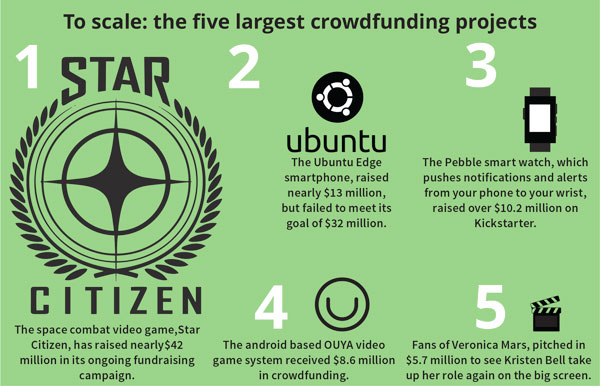 Illustration by Peter Davey. Clapboard Icon made by Freepik from Flaticon.com. All figures are in U.S. dollars
The proposals for crowdfunding exemptions open up new "capital classes" for companies, offering opportunities to almost all Canadians to invest in startup businesses, she said.
"If you want to raise capital in private markets you need a prospectus, which is a very costly document," said Craig Asano, executive director of the National Crowdfunding Association of Canada.
A prospectus is a "detailed disclosure document" and "contains key information about the investment fund and the securities offered," as defined by the Ontario Securities Commission.
Related:
The new crowdfunding prospectus exemption proposals, from provincial regulators, eliminate the need for individuals and companies to prepare the expensive document, said Asano.
"The argument there is, why would a startup company need to pay an extremely high amount of capital to qualify and comply with regulations when they're only needing a small sum of money?" he said. "It doesn't really make sense."
There are many regulations and limitations associated with the crowdfunding exemptions, such as issuer caps and investor caps, in lieu of the prospectus that protect the company and the investor, said Tony Gifford, the entrepreneur advocate for Humber's business school.
"What can happen is that there may be a startup that is doing this surreptitiously and there's no regulation on it so it may be dishonest and all of these kinds of fears so they have capped the amount that an individual, public investor can put into a business," Gifford said.
The "Startup Exemption", adopted in Saskatchewan last December, limits capital raised by startups and small to medium enterprises (SMEs) to $300,000 per 12-month calendar year, said Asano. The maximum investment from an investor under this exemption is $1,500 per deal, he said.