Montreal Workshop (May 15, 2013): Crowdfunding Basics

NCFA Canada Ambassadors | Posted by Seeding Factory | April 30, 2013
Event Details:
Montreal Workshop on Wednesday, May 15, 2013 from 6:00 PM to 8:00 PM (EDT)
A 2-hour workshop filled with how-tos & action plan for your next crowdfunding campaign
Looking to raise funds for your project, but find it a daunting task? Crowdfunding is really just classic community fundraising meeting new technology tools and is a great way to boost your project budget and profile. Yet, too many doers & makers don't reach their funding goals due to lack of planning and attention to making the campaign successful. Because this new world of crowdfunding has a new set of rules, and requires new techniques and approaches.
This interactive workshop organized by Seeding Factory, in partnership with Spiegel Sohmer, will help you understand the crowdfunding space and identify key elements for crafting a comprehensive campaign.
Who should attend?
This workshop is for entrepreneurs, creatives, artists (filmmakers, musicians), hackers & makers, activists, inventors, designers, small business owners, and anyone who wants to make their idea a reality.
This workshop is a perfect preliminary to the "Advanced Workshop" organized by Seeding Factory & Spiegel Sohmer.
Finger food and beverages will be served.
>> Limited Capacity: 20 people <<
NCFA Canada Member Discount
(Limited # of discounted tickets. Email casano@ncfacanada for details)
Workshop Outline
This workshop will be fully bilingual, in French & English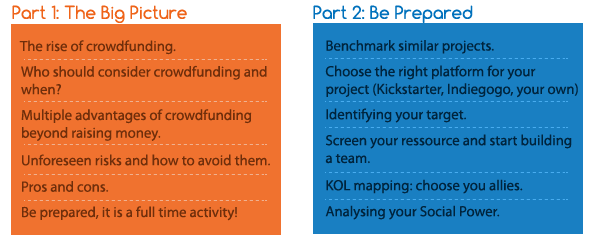 You will walk away with a clear vision to start crafting your own campaign and the confidence to know how & why crowdfunding works.
Seeding Factory
Bruno Rakotozafy & Heri Rakotomalala are crowdfunding experts, founders of Montreal-based Seeding Factory. They've helped raised more than $100,000 last year for various projects (Build Notman House, J'accorde,...). They are also active evangelists with the critically acclaimed Crowdfund Night event series hosted every 4 months in Montreal.
Spiegel Sohmer
Founded in 1967, Spiegel Sohmer is a firm of attorneys offering state-of-the-art expertise to a diversified business clientele seeking solutions that are innovative, concrete, and pragmatic.
About NCFA Canada Ambassadors Program
The National Crowdfunding Association of Canada Ambassadors Program is a nation-wide initiative aimed at recognizing, supporting and unifying crowdfunding leaders across the country through collaborative events, education and resource sharing.
Expand the range, reach and depth of your voice by interacting with a vibrant and growing network of crowdfunding experts across the country. Contact us at casano@ncfacanada.org to learn more...