Technology, Crowdsourcing and Health Care Innovation in Canada

Submitted by Lee Rickwood on October 29, 2012 – 10:36 am
Sometimes, it's hard enough to see one doctor, what with waiting lines and doctor shortages and all.
So just imagine being able to tap into medical knowledge and health care advice from hundreds of thousands of physicians around the globe with a swipe of your finger or click of the mouse.
Information sourced from the crowd can be a valuable data tool.
That's the promise and value of medical crowdsourcing: one person can benefit from the knowledge, experience and feedback of a much larger group.
One patient's medical profile and symptoms can be compared and contrasted with many others, and ultimately matched with treatment that folks in similar situations have deemed most effective.
At an event staged recently by Saint Elizabeth Health Care of Markham, ON, an important symposium on crowdsourcing attracted health care professionals, government leaders, tech observers and two pioneers of crowdsourcing and social media activism.
Crowdsourcing for Health Innovation had as its self-stated aim the creation of "a groundswell of citizen participation for health innovation and – ultimately – better health care experiences."
But with those anticipated benefits are some known challenges: can crowdsourcing balance the need for information openness and with that of patient privacy? Could crowdsourcing platforms threaten the confidentiality implied and often legislated in the patient-physician relationship? Is the crowd more or less "qualified" than trained professionals in diagnosing and treating medical illness?
Speakers – and audience members – at Saint Elizabeth's engaging and interactive session tackled such topics head on. They described how crowdsourcing is triggering significant change in the medical field and how new digital techniques and technologies are being used to push health care innovation forward.
Leading the presentation were Jeff Howe and Rahaf Harfoush, two folks who've been oft-credited with coining the term crowdsourcing, and applying the concept to some of the most important decisions of our time.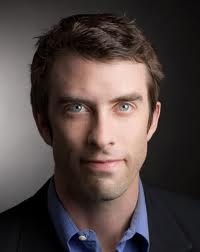 Crowdsourcing guru Jeff Howe
Howe, well-known Wired Magazine author, journalist and professor, is credited with the first using and defining the term in his book, Crowdsourcing: Why the Power of the Crowd Is Driving the Future of Business.
Harfoush is a self-described "Digital Innovation and Foresight Strategist", whose book Yes We Did: An Insider's Look at How Social Media Built the Obama Brand describes her social media involvement with the (first) Obama presidential campaign.
Now, both acknowledged right off the bat that they have little personal knowledge about the health care industry overall, but they did cite examples of how crowdsourcing has been applied to specific issues and trends in the treatment, for example, of AIDS.
In many ways, crowdsourcing is about putting personal health into the hands of the crowd.
Crowdsourcing opens up the notion of who is expert, who has knowledge, beyond the traditional definitions of 'expert' or 'source'.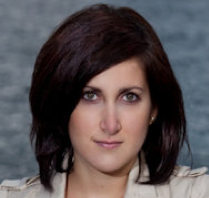 Digital strategist Rahaf Harfoush
Internet and social media networking extend the reach of both patient and physician, so access to diagnostic advice beyond an immediate circle is greatly extended. Information is not limited by personal or physical connections.
Or, as Shirlee Sharkey, the Saint Elizabeth CEO and the panel host and moderator, describes it, "It's about the person you don't think has the answer."
Saint Elizabeth has a respected track record of social innovation and breakthrough clinical practices, and its more than 6,500 health care professionals already operate as a kind of social enterprise, and it's using technology to build a network of health care partners.
When you go to a doctor's office, you see their diplomas and certificates mounted on the wall – it's a statement of their medical education, training and certification by other recognized and credible institutions.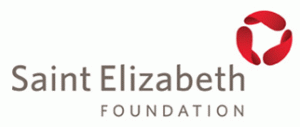 Saint Elizabeth hosted the session on crowdsourcing and health care innovation.
The crowd does not have such a certificate, as yet. But many still see the idea of 'certifying the crowd' as a good one.
(I happen to do work in some of the city's major hospitals; I am continually amazed and awed by the efforts medical researchers make to qualify and standardize their research, surveys and comparative studies.
When they set up a medical experiment or test for a certain treatment, for example, the importance of a "control" group is crucial for comparison and validation purposes.
Researchers note the importance of sample sizes in their studies, and there's often reference to "cohort sizes", "double blind tests" and other statistical tools, all used to bring a reliable, predictable and repeatable validation of any conclusion they reach.
They often note as well that one variable they must account for in any research study is self-tracking, self-reporting, and the individual's own monitoring of their physical or medical conditions.)
So certified crowdsourcing based on reliable big data seems crucial; some sort of codified and curated electronic health record (EHR) system, one that pools private yet verified information in a standardized database, can help ensure that the information really does contribute to a patient's treatment and condition.
That sense of standardization, often seen as antithetical to pure crowdsourcing, must address the flow of information as well as its validity. Issues surrounding third party participation (How might insurance companies and pharmaceutical firms, for example, deal with crowdsourced information? What impact does cloud security and transmission sovereignty have on access to crowdsourced information?) must be addressed to get the most from health care crowdsourcing.
So, too, we've got to figure out what to do with new so-called "Digital Health Feedback Systems".
These new monitoring devices capture personal biometric data from inside the body, using tiny tracking or transmitting chips that can be swallowed or injected into the blood stream.
Health care innovators and industry observers at the conference noted how we can monitor our most personal biological processes and medical conditions, and we can share that information instantly and ubiquitously.
We need to be able to monitor the process, the etiquette and the rules of crowdsourcing just as quickly and completely to get the most value for the health care industry and beyond.
Source: here submitted by Lee Rickwood